Old Lovers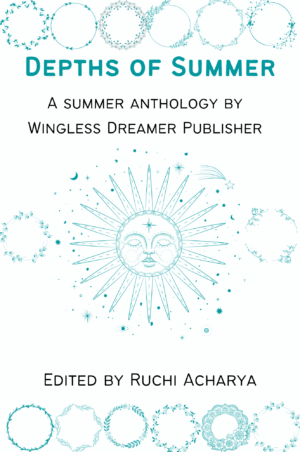 Old Lovers, appearing in Depths of Summer: A Summer Anthology By Wingless Dreamer Publisher.
Edited by Ruchi Acharya
Depths of Summer is an anthology of incredible poems to celebrate summer and the pleasant sense of nostalgia that it accompanies the season.
From endeavoring sonnets to haiku, mesmerizing couplets to poems that capture a moment, this diverse anthology brings you a potpourri of poems on nature.
There's a poem for every reader and a poem for every mood. From over numerous submissions across the globe, these vote-worthy poems made it to the top. This collection of poems will serve as a launchpad to bring some of the world's greatest contemporary poets into the limelight. This anthology is proof of the ever-evolving, fluid, evergreen, and thriving world of poetry. A must-have for every ardent lover of the art form.
You can read the longer excerpt here.
Get your copy today on Amazon!